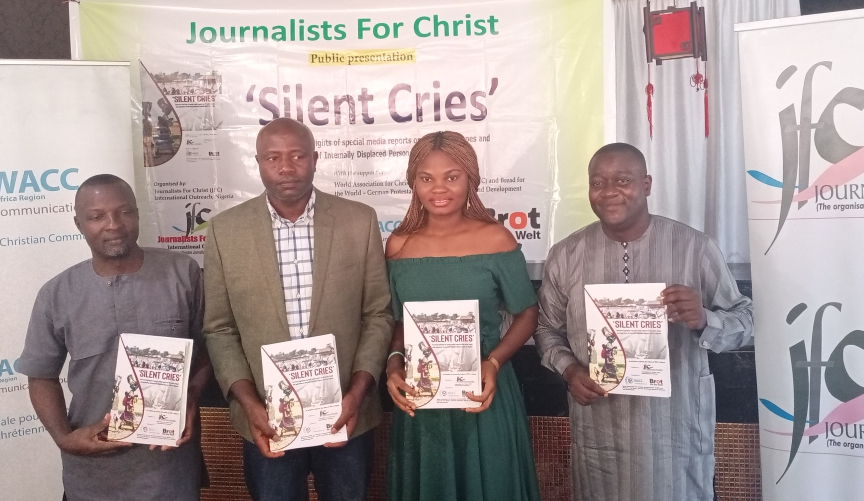 ABUJA: Internally Displaced Persons (IDPs) in Nigeria, are daily confronted with many issues such as hunger, malnutrition, lack of potable water, inadequate healthcare and sanitation, lack of access to education, sexual abuse of women and girls, as well as a range of human rights issues.
In a bid to address these emerging challenges faced by the IDPs, the Journalists for Christ(JFC), on Saturday unveiled a publication titled 'Silent Cries', which is a summary of special media reports on the pains, hopes, aspirations and struggles of well-meaning Nigerians, who by reason of circumstances beyond them became Internally Displaced Persons (IDPs) in Nigeria.
In his opening remarks, the Secretary, JFC Board, Mr. Gbenga Osinaike, while giving a brief background on the JFC/WACC Project on Media and IDP, said the project had the intention to create passion in Journalists to continuously bring the issues of the IDPs to the front burner.
"This project is all about thinking about the people, the stories written were enlightening and we hope that today will not be the last day of interacting with the IDPs. We want you to take it up from here and do more reporting of the IDPs", he said.
Read more from The Sight News
https://thesightnews.com/2022/10/30/silent-cries-jfc-unveils-publication-on-pains-hopes-and-aspirations-of-idps-in-nigeria/