JFC, through the support of WACC at both the global and Africa Region level (WACC-AR) has continued to undertaken a number of media-driven intervention project to advance the rights and welfare of IDPs in Nigeria.
Project #2: Research and stakeholders' engagement on best practices in guaranteeing the rights of internally displaced persons (IDPs): Making a case for IDPs in Nigeria. This was implemented in 2019/2020 supported by the World Association for Christian Communication (WACC) and Waldensian Church's OttoPer Mille (OPM).
Specific objectives:
The specific objective of the project is the conduct of a research to institutionalize global best practices in managing IDPs and galvanize stakeholders' action for the respect and protection of rights of IDPs in Nigeria.
The generic project objective entails galvanizing broader stakeholders' involvement in advancing the welfare of IPD's and refugees in Nigeria.
On the long run, the project, using the mechanism of media communications and advocacy engagement interfaced with institutional organs of government and related critical stakeholders to foster proactive actions that positively advances and addresses the generic and specific welfare and rights issues of IDPs and refugees in Nigeria.
Beneficiaries:
The ultimate beneficiaries of the project are Internally Displaced Persons (IDPs) in several resettlement centres and camps across Nigeria.
Towards this, the project directly engaged representatives of about 100 stakeholder groups cross cutting policy makers, journalists/media organizations, local and international humanitarian/ecumenical organizations, institutional and government agencies, civil society groups and representatives of academic institutions.
Indirectly, at a more broader level, the primary beneficiaries are IDPs and their families in particular, while agencies in charge of IDPs, the media and related stakeholders are secondary beneficiaries in terms of knowledge exchange, information dissemination and policy changes.
Involved Partners:
The involved partners under the project include the following:
The JFC project implementation team,
journalists/media stakeholders, government ministries and agencies involved in internal Displacement management;
NGOs and representatives of the IDPs community in Nigeria
Humanitarian/ecumenical organizations.
There were four (4) Key activities under the project. The project activities and their output are as follows:
Research study/assessment of IDPs situation in Nigeria: This activity produced the draft of an advocacy document/research report on the need to ensure global best practices in managing internal crises and guaranteeing the rights of IDPs in Nigeria.
Stakeholders' harmonization meeting: This activity harmonized and enriched the findings of the draft report with real life situation, realities and perspectives from cross cutting stakeholders (Development journalists, institutional actors, humanitarian workers, eye witnesses)
Publication, public presentation/media launch and roundtable engagement with relevant stakeholders: This activity produced stakeholders interaction and public/media awareness towards advancing support mechanisms for IDPs.
Advocacy visits/engagement with stakeholders (Government, media, CSOs groups): This activity fostered the need for institutional stakeholders to ensure proactive attention for IDPs through specific policy/administrative change.
STAKEHOLDERS DIALOGUE AND PUBLIC PRESENTATION OF RESEARCH REPORT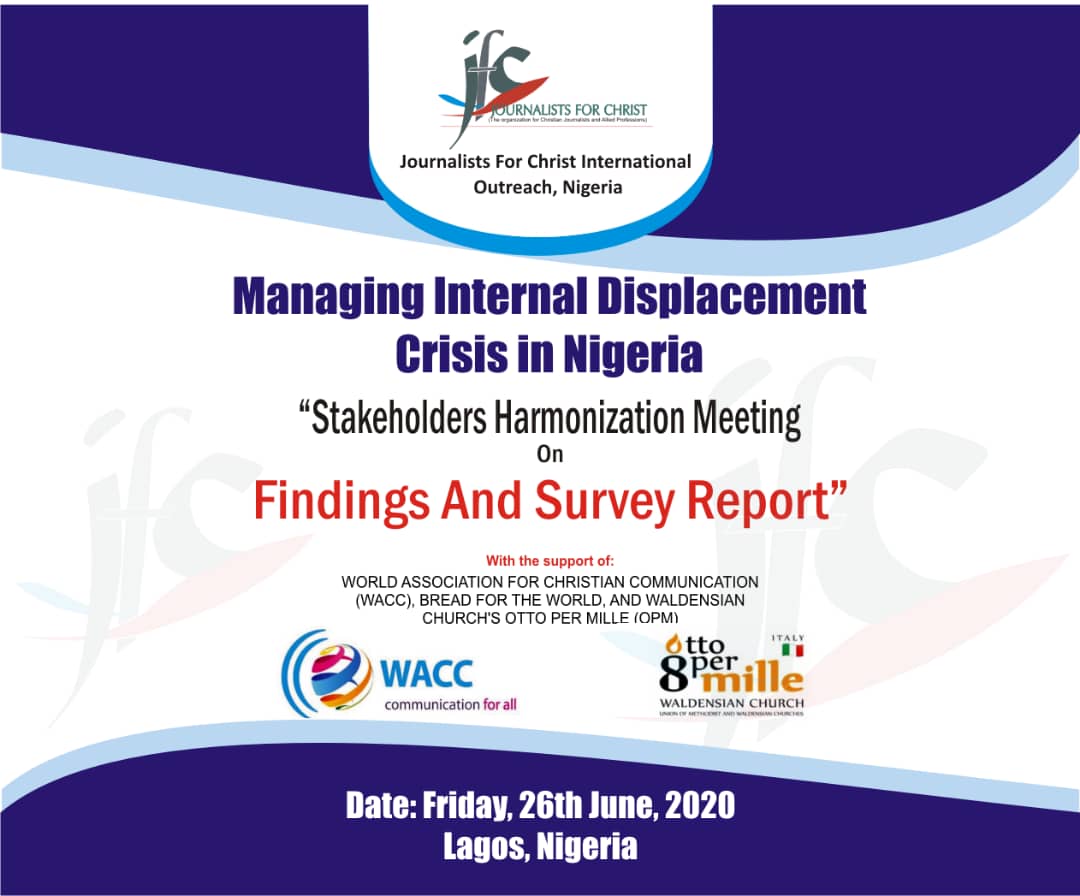 ADVOCACY. MEDIA VISITS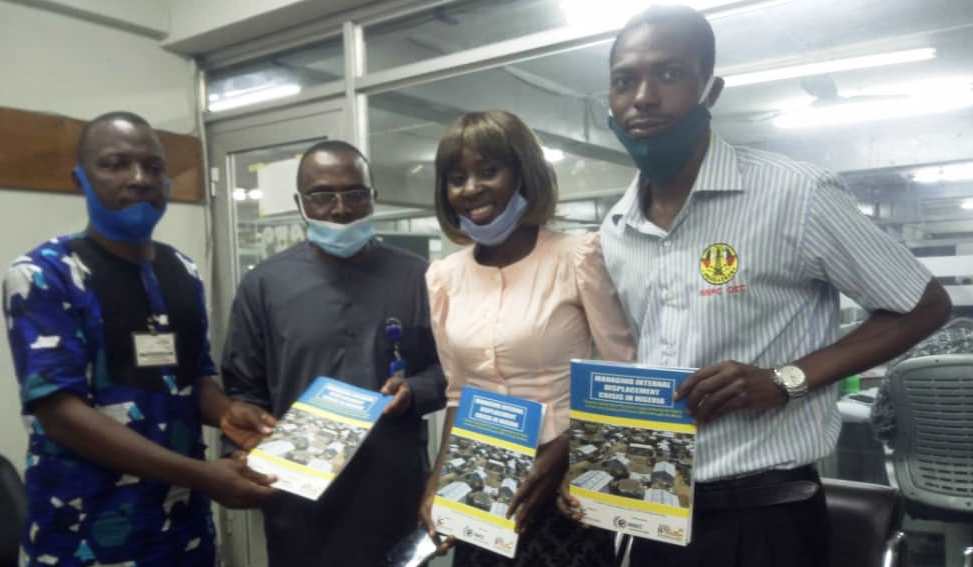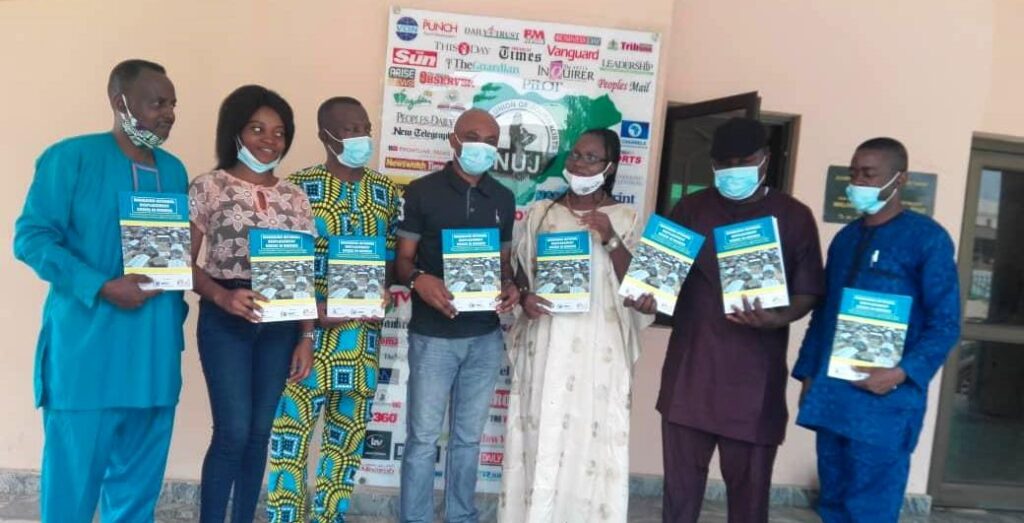 Link to media report: (Pre event press statement)
https://gatekeeper.ng/jfc-holds-media-roundtable-on-managing-internal-displacement-crisis/
https://csomedia.com.ng/jfc-holds-media-roundtable-on-managing-internal-displacement-crisis/
https://www.mapmedia.ng/jfc-holds-media-roundtable-on-managing-internal-displacement-crisis/
https://www.witnessngr.com/jfc-holds-media-roundtable-on-managing-internal-displacement-crisis/
Link to media report: (Post event news report)
https://thesightnews.com/making-a-for-idps-jfc-presents-report-on-managing-internal-displacement-crisis-in-nigeria
https://thenationonlineng.net/ensuring-better-internal-displacement-management/amp/
http://reportcircle.com/journalists-for-christ-outreach-tasks-media-on-projecting-idp-issues
https://dailytrust.com/how-idps-in-fct-sell-donated-food-to-buy-drugs
https://sdnonline.net/2020/08/28/jfc-making-case-for-managing-internal-displacement-crisis-in-nigeria/