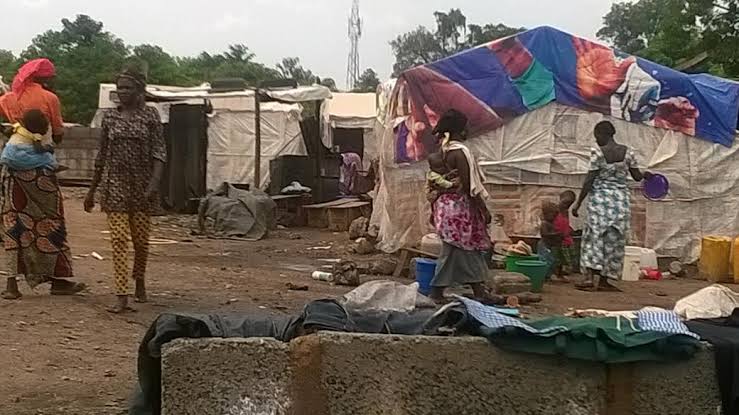 Inhabitants of Agagbe Internally Displaced Persons (IDP) camp in Gwer West Local Government Area of Benue raised concerns regarding the distressing situation faced by IDPs.
The camp's occupants raised the alarm over the outbreak of illnesses, particularly measles, as well as the increasing prevalence of starvation in the IDP camp
The IDPs lament that this challenging circumstance has resulted in pregnant women being compelled to give birth in toilets due to the absence of medical care and support from the relevant authorities. This practice has resulted in the loss of some newborns within the camp.
The IDPs appealed to the state government, compassionate individuals, and various organizations for assistance, warning that the combination of this infection spread, along with the scarcities of food and proper medical care, could lead to increase in mortality within the camp if immediate action is not taken.
Addressing the situation, the Camp Manager, Jacob Ibaah, expressed his concern about the dire situation faced by the IDPs, stressing the need for immediate intervention.
Ibaah disclosed tnat hunger has gripped the camp, and pregnant women are financially unable to access hospitals, compelling them to deliver in the camp.
The camp's congested living conditions have forced many to use a toilet, constructed by Doctors Without Borders (MSF), as a makeshift delivery space.
He further revealed the disturbing health condition of the IDP camp, especially the presence of a measles outbreak and other diseases within the camp. According to him, six children have contracted measles, yet remain untreated due to lack of medical attention, resorting to herbal remedies as an alternative.
"As we speak, there is hunger in the camp. Also, they (pregnant women) could not get money to go to the hospital, so they delivered in the camp. Even a place to give birth is also a problem here.
There is a space, a toilet built by Doctors Without Borders, MSF, which is where most women here use for baby delivery.
"If they don't have money to go to hospital, they use the toilet. They give birth there since we are currently congested in the rooms. It's really tough. And the State Emergency Management Agency, SEMA, is aware of this development.
"Also, there is even the issue of outbreak of measles and other diseases here in the camp. Already, we have identified six children who are down with measles and they are yet to receive medical attention. But in the alternative, they are taking herbs. It is indeed a bad situation." he said.