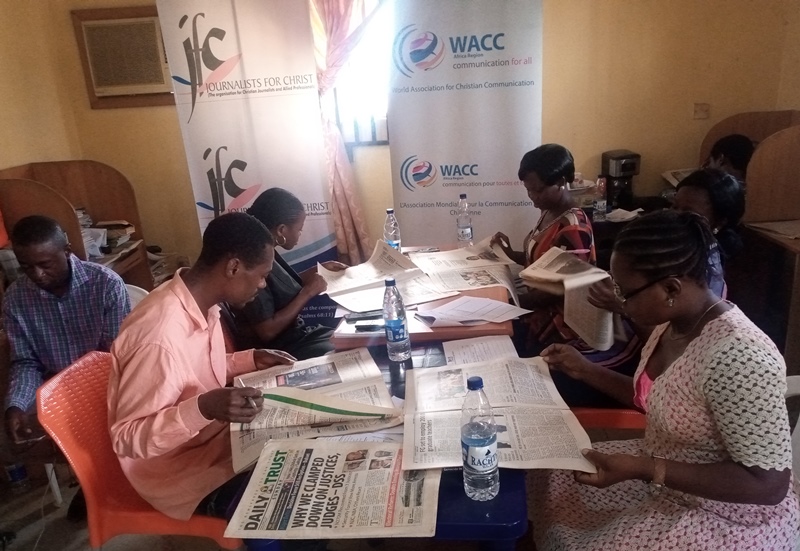 Consolidating past efforts in respect of enhancing the welfare IDPs, JFC is currently implementing a media-backed initiative under a funding support of the World Association for Christian Communications (WACC) and Bread for the World – German Protestant Agency for Diaconia and Development. The project is entitled 'Advancing the rights and welfare of IDPs through media monitoring, investigative journalism &media-driven advocacy'.
The proposed intervention is within the context of creatively upscaling engagement with stakeholders and institutional policymakers by deploying new media-driven advocacy strategies to facilitate a more proactive response from institutional authorities and policymakers responsible for overseeing the welfare of IDPs.
Thus, the project shall deliberately be training and engaging journalists and development writers to conducting investigative reports and media-driven advocacy to challenge and influence government policies towards priority actions that improves the living condition of IDPs.
In driving actions to address the issues affecting IDPs and engendering their welfare, 20 journalists/development writers would be trained and supported to pitch story ideas and conduct special reports on specific challenging situation in IDPs camps (issues of abuses, hygiene, health, security, sanitation, fate of persons living with disability, etc) which they shall report in their news organisation/outlet.
The methodology may also include the use of multimedia reporting techniques with a conscious effort to reaching out to concerned institutional stakeholders to ensure fair and balanced reportage and giving opportunity to the concerned authorities to react, respond or commit to priority actions, as applicable for the particular issues being highlighted for media report by the trained journalists.
In this respect, the project activities for implementation purposes are as follows:
Media monitoring: (One month baseline survey)
Consultative meeting/media parley with IDP focal persons (one day in Lagos and Abuja)
Webinar/Virtual capacity building for journalists and support for field trips on pitched IDPs stories
Publication of a 'SUMMARY REPORT' tentatively entitled 'Silent cries'.
Stakeholders' roundtable and strategic advocacy visits/parley with institutional stakeholders. (Abuja)
Strategic Advocacy parley (Lagos) As an extension of the Abuja roundtable and advocacy visits, targeted key stakeholders in Lagos shall also be reached and engaged with the 'silent cries' publication.
MEDIA MONITORING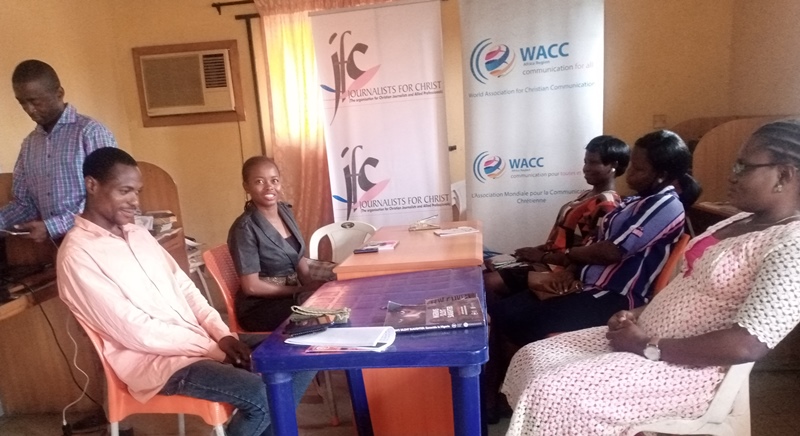 LAGOS MEDIA PARLEY ON ADVANCING IDP ISSUES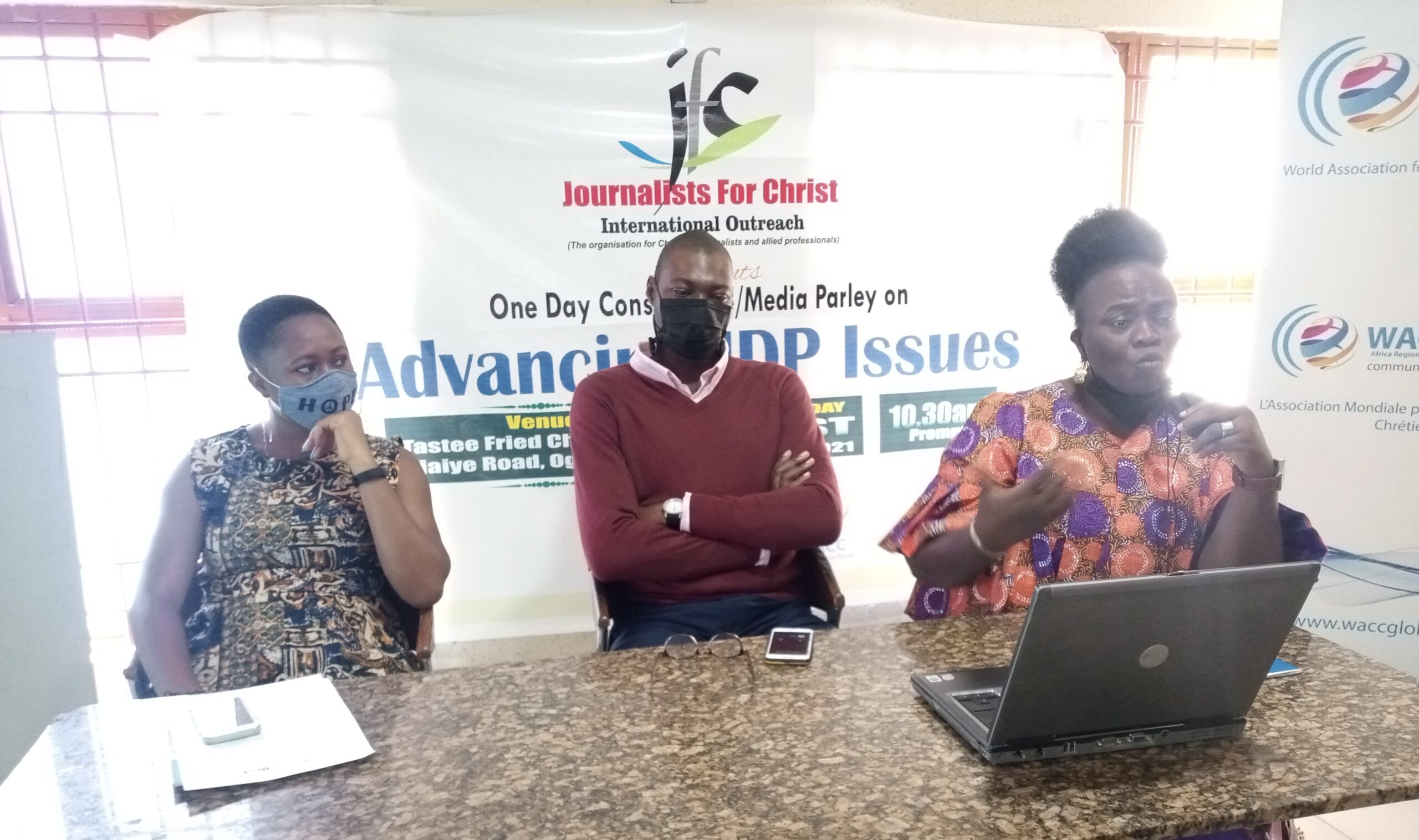 ABUJA MEDIA PARLEY ON ADVANCING IDP ISSUES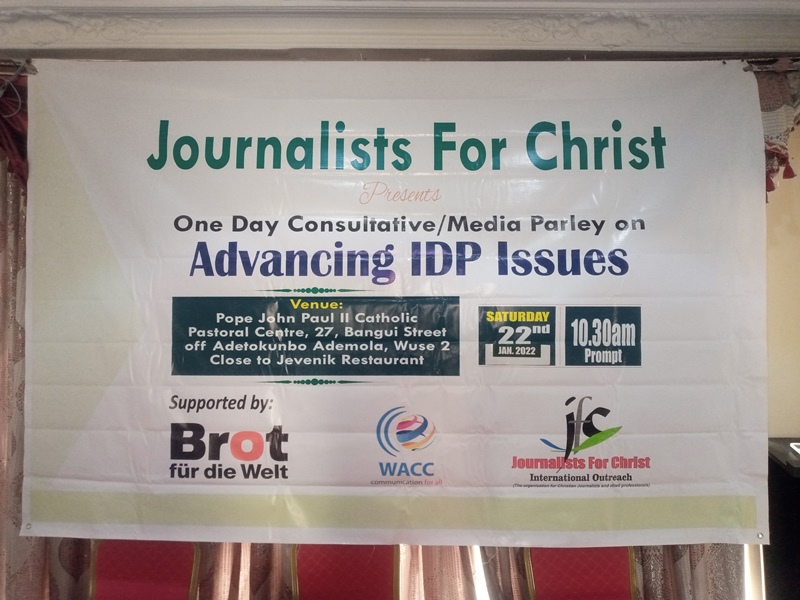 Some media reports
https://newshour.com.ng/media-parley-on-advancing-idp-issues-hold-in-abuja/
https://bonewsng.com/beyond-food-idps-require-education-psychosocial-support-idp-focal-persons/
https://oseyizaoogbodo.blogspot.com/2022/01/idps-mentality-needs-to-be-changed.html
http://theclavermagazine.com.ng/?p=8969
https://www.thednnradio.com/jfc-holds-media-parley-on-advancing-rights-of-idps/
https://oseyizaoogbodo.blogspot.com/2021/12/hey-lagosian-idps-are-your-neighbours.html
http://journalistsforchrist.org/index.php/2022/02/07/idps-need-support-to-fulfill-aspirations/
https://summitpostnews.com/2022/01/24/idps-journalists-for-christ-partners-media-stakeholders-on-advancing-issues/
https://www.portal.nannews.ng/?p=17827
https://bonewsng.com/rights-of-idps-jfc-hosts-dialogue-to-advance-idp-issues/
https://leadership.ng/sex-for-food-women-conditions-of-living-and-women-in-internally-displaced-camps-in-nigeria/