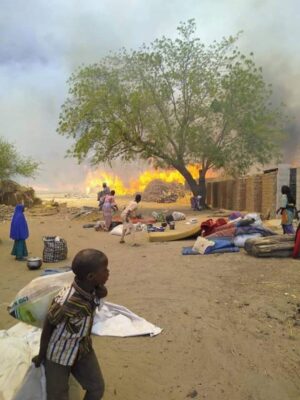 A devastating fire tore through the Muna Alamdari Internally Displaced Persons (IDP) camp in Maiduguri, the capital of Borno State, claiming the lives of two individuals and leaving over 1,000 houses in ashes.
The blaze ignited at approximately 6 a.m. and raged for more than an hour before Fire Service personnel successfully brought it under control.
Director General of the State Emergency Management Agency, Dr. Barkindo Muhammad, reported from Maiduguri on Wednesday that the IDPs, alongside the Civilian Joint Task Force, security agencies, and compassionate individuals, joined forces to combat the fire.
According to him, the agency has initiated assessments to evaluate the extent of the damages caused by the fire. Urgent measures are underway to provide immediate humanitarian aid to those affected.
"We are taking immediate steps to alleviate their suffering by providing 500 bags of rice, blankets, and various other essential non-food items," said Muhammad, highlighting the pressing need to support the victims during this challenging time.
Source: theeagleonline.com.ng