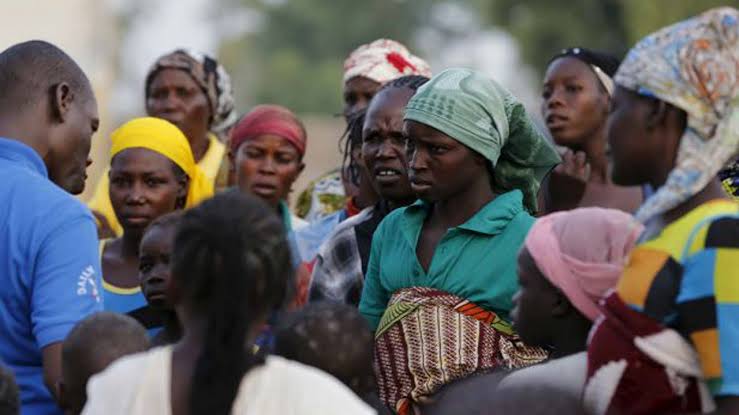 The Federal Government through the National Commission for Refugees, Migrants and Internally Displaced Persons (NCFRMI) said 4000 Internally Displaced Persons (IDPs), from Abuja and Nasarawa State would benefit from their enrolment into the just commissioned Transitional Learning Center.
Speaking on the decision of the Commission to enroll 4000 IDPs, the Federal Commissioner, NCFRMI, Imaan Sulaiman-Ibrahim while launching the Transitional Learning Center at the New Kuchingoro IDP Camp in Abuja, explained that the initiative is part of an ongoing intervention under its Project Educate All.
She also revealed that the Commission had engaged 54 instructors among the IDP hosting communities to serve as facilitators.
She said, "We are pleased to announce that 4,000 learners between the ages of 5 to 18 will benefit from this phase of our program in eight IDP camps located in the FCT and Nassarawa State.
"These camps include New Kuchingoro, Takuchara, Karamajiji, Wassa, Waru, New Karshi, Malaysian Garden, and Yimutu, with 700 pupils already enrolled.
"Furthermore, to ensure the success of this initiative, we have engaged 54 instructors from the IDP hosting communities to serve as facilitators.
"This engagement has not only provided much- needed employment in these communities but also allowed us to prioritize the localization of our interventions and promote the sustainability of the programme."
She insisted that education is the foundation of development, peaceful coexistence, and noted that without education among those displaced could result to severe social and economic consequences for the nation, particularly on the IDP and host communities.
However, the Federal Commissioner stressed further there is no gainsaying about the fact that with over 52 per cent of the 69 million displaced individuals globally under 18, it is imperative and mandatory to ensure they have access to education.
Also as a mother she said, "Despite significant improvements in enrollment access to education over the last ten years, most children living in conflict-affected contexts are often left behind.
"We must not forget that education is a fundamental human right, and the right to quality education should not stop because of conflict and displacement.
"Children must be able to go to school, learn in a safe environment, and be given a chance to develop their full potential, whether they live in an IDP camp, a makeshift settlement, a town, or are still on the move.
"It is important to stress that education is a right enshrined in the Convention on the Rights of Children and a collective responsibility of all stakeholders."
"In line with the Commission's camp exit strategy and delivering durable solutions to persons of concern (POCs), with strong consideration for host communities, the Commission signed a Memorandum of Understanding with Aid for Rural Education Access Initiative (AREAI) to support the implementation and facilitate access to accelerated and informal educational opportunities for IDP, refugee, and migrant children.
She reiterated the Commission's commitment to issues concerning education and development of human resources as it is an essential foundation for individual, social, and economic development including equality, respect, tolerance, and dignity.
"Therefore, since 2021, the Commission has scaled up technical and financial provisions in education in emergencies and protracted crises.
"This is through a comprehensive multi-layered approach that matches learning and academic skills with psycho-social support and life skills training. The aim is to promote social integration or re-integration into formal education in camps and host communities. This Transitional Learning Center is an outcome of this very robust collaboration.
"The Transitional Learning Center is more than just a school. It is a place where children can regain a sense of normalcy and stability in their lives. It is a place where they can make friends, learn new skills, and dream of a brighter future. It is a place where they can build the foundation they need to succeed in life.
"Given the human-centred design nature of our interventions as a key fundamental of our Strategic Roadmap, it is important to note that aside from members of the IDP community, host community members are also playing a critical role in co-leading the implementation process of the Transition Learning Centers.
"Bi-monthly workshops for key stakeholders are deployed as part of quality control measures. Workshops are also hosted at the Center that focus on training local stakeholders and women groups on peacekeeping, self-awareness, basic hygiene education, and prevention of violence against children, including gender-based violence (GBV) and disabilities.
"In addition to providing comprehensive education, the National Commission for Refugees, Migrants and Internally Displaced Persons is committed to promoting sexual and reproductive health and HIV prevention of children in displacement", she said.